Project methodologies for Industry 4.0
We see many factories struggle with implementing successful projects aligned with an Industry 4.0 initiative. Success doesn't always mean a financial return directly, it can bring better worker and customer satisfaction, environmental benefits and more; thus, being lucrative on the long term. But anyway, there must be a gain from any project which in turn drives your company along the (hopefully long and fruitful) Industry 4.0 journey.

We have seen several good initiatives literally die because of one very important aspect: The lack of a reasonable use case that makes more appetite for using Big Data solutions in the factory. During the last couple of years, we have gained experience at customers and international hackathons resulting in a well working set of methodologies that help create value at almost any company.


Not sure if there is value in your use case? Do data pre-evaluation
Many times, companies over-plan the implementation of use cases instead of experimenting with what they have and iterate until they have the final solution. Considering building an expensive data pipeline for a predictive maintenance system? You better check the quality of the data and take the first steps with an offline system before building something big.
This is the situation our so-called "data pre-evaluation" methodology is developed for. In only 10 man-days (optimally lasting about 4 weeks depending on your availability), you will be able to decide whether to invest in a real-time and precisely built version of the same idea.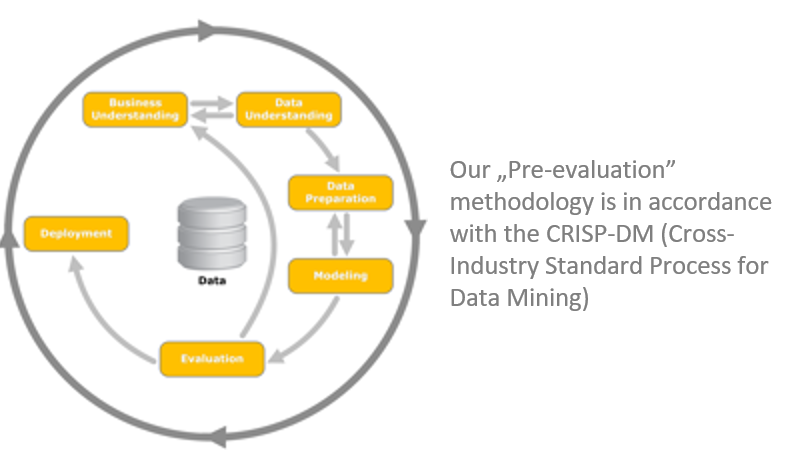 First, prepare and get to know the data by using standard data mining and analysis tools. In one case, our customer had frequent breakdowns on their machining equipment, and process data was present in CSV files. We have cleaned and investigated the data and concluded that it will be very likely to build a predictive application by using that data as a training set and calculating the predictions on the live stream data. (Of course, re-training of the system can happen anytime after the initial training as well.) In later phases of the idea implementation (see the Proof-of-Concept later in this blogpost), the predictive application helped reduce downtime significantly.
If engineers and decision makers understand how powerful a potential application could be (based on the pre-evaluation), they will likely want to build a Proof-of-Concept, which is usually the next step in the iterative process.
Ready to make the next step? Go for the PoC (Proof-of-Concept)
A PoC is meant to be something that its name refers to: proving that the initial assumption or concept (that the product will meet the customer's demands, the solution will bring the desired benefits and so on) was right and the solution satisfies the initial claims.
We strongly believe that a PoC needs to contain at least 3 use cases (of low hanging fruit type). This increases the chance that out of these three, at least one will generate a financial return within one year. Which is again very important to convince decision makers inside the factory.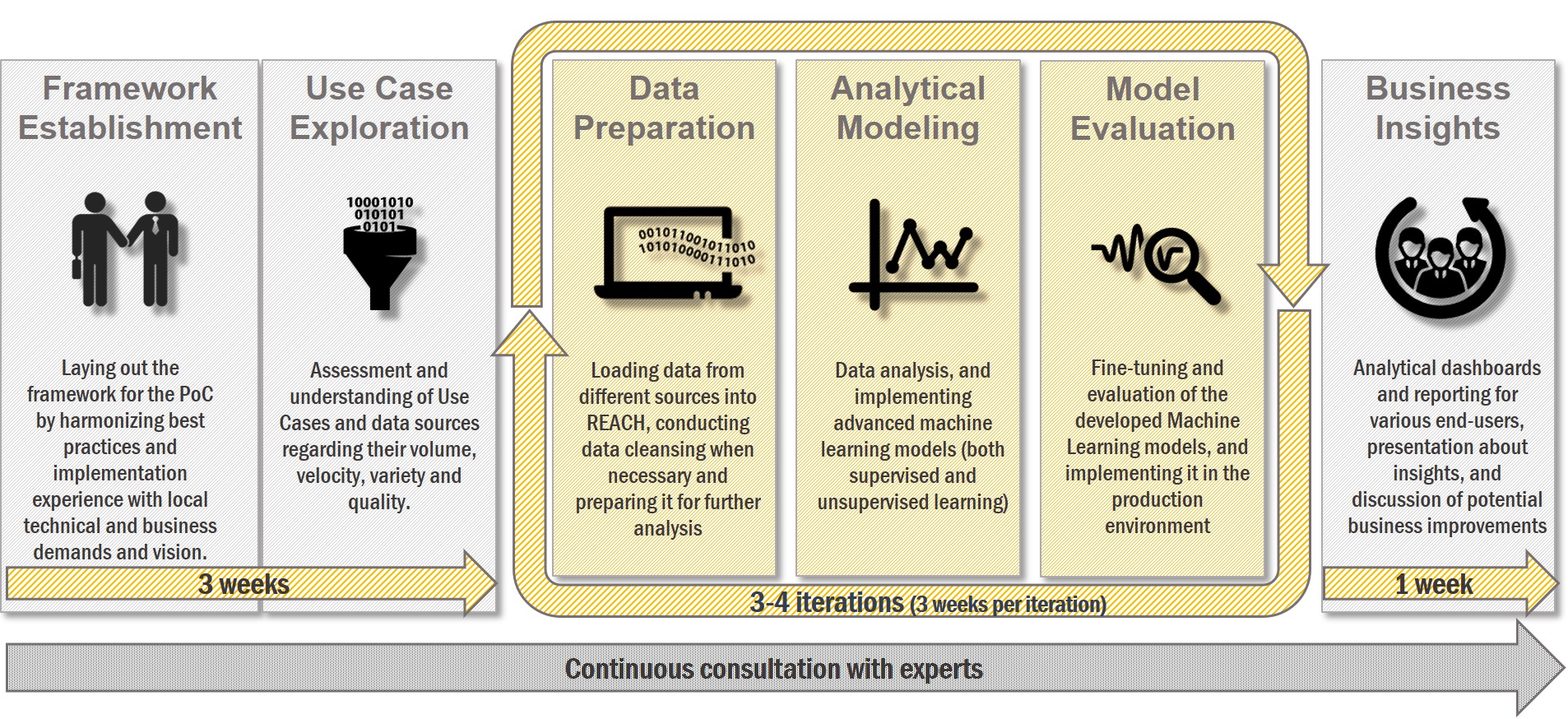 Our agile PoC methodology takes about 3 months and has three main phases. In the first iteration (3 weeks) we explore the use case more deeply than in the "data pre-evaluation" methodology, because we need to build the foundation for a future production environment. 3-4 iterations of modelling and development follow this phase, where the data and models are prepared, the data pipeline(s) are built, and these get evaluated.
At the end, we take at least 1 week and several discussions with our customers to understand the business insights that we have gained and evaluate the current and future value of the project. Finally, we report the results to the management and discuss next steps.
Industry 4.0 roadmap – designing strategies
We have been through numerous project implementations with manufacturing industry players. Sooner or later every company realizes that either a complete industry 4.0 or Smart Factory roadmap needs to be developed, or the existing strategy is to be updated or fine-tuned. We can help you identify key areas in the factory where proven Big Data technology can help make production more efficient and profitable and help design the strategy that will result in a Smart Factory one day.
Sometimes you need to spice up the idea
We have learnt a lot during and from
Industry 4.0 hackathons
. One of the most important takeaways is that a spectacular demonstration of the use case is necessary to convince decision makers to start the project that will be deployed in a production environment later. Using the "hackathon method" helped us convince key people to continue and profit from the Industry 4.0 roadmap. For example, the spectacular demonstration of a prototype version of the machining use case was enough to prove that it is worth taking the next step towards the system in production mode.
Summing it up, if you feel that you need to start building an extensive solution or application for a specific problem, you better run a small evaluation with the data and information that you already have (if you are playful, you can even use the hackathon format). And if you need help, we are glad to help you with our proven methodologies. Get in touch!