Innovation roulette tables from LP to OJSC
Even the ancient Greeks placed great emphasis on two things: philosophy and the enjoyment of life. Of course, they had time to think, compute, celebrate, and did not have to compete globally. What do we need today from their knowledge? What is certain is that there is no progression without innovation. As there is no innovation without open, accepting and inclusive thinking along with productive debate. Ergo, innovation could not exist without debate culture. In addition, it is very difficult to lure innovation without motivation. However, innovation is needed to stay in international competition, from shoemaker to irrigation equipment manufacturer, from teacher through lawyer to design engineer.

It is already an innovation if we copy others cleverly within frameworks: actually, it is not a basic research, but it can be a fruitful solution. This copy is well-known for Best Practices or industry-specific applications such as Good Manufacturing Practices (GMP). If we go on this path further, we have the option of reverse engineering, that is, decrypting the given device or software in order to ensure compatibility with our own device or software. The question of "ownership" of data is increasingly an issue - it is quite clear in the case of unique databases that it is covered by intellectual property protection. However, in cases where my machine provides data (e.g. temperature value) on industry standard protocol so that it is not possible to read it secondly (for example, because the bus system only supports one master), then the interfacing could be allowed for the reader processing machine installed by another authorized by the original manufacturer. The question is where and how the data is generated. There are a lot of manufacturers (we call them industry) who specialize in deconstructing tools and simply copying them cost-effectively - so we have to deal with them because they have to devote a fraction of the research costs to producing the products.

What is essential for innovation? We need brainstorming and basket of ideas from where we can draw from, and after 9 bad ideas we are expecting the 10th good idea to redeem, which we then try to translate into a business case or business plan. For good ideas and business case making you need to seeing the problem and have to have creativity, critical or improving thinking, time, experience (or on the contrary, virgin hands), viticulturalist, emotional intelligence should be needed the most. In terms of a business case, when we do not have a green light yet, it is particularly important that management understands and supports our business case, whether it is a project outside its field of expertise or not. It is vitally important for innovation, for example, that for an IT project, all the non-IT managers involved know the project, understand the project and see how it can improve its own field. Emotional intelligence needs to be addressed in order to unspoken fears, misunderstandings and feelings are treated not only at the moment of the decision, but throughout the entire duration of the innovation project. It is also necessary to enjoy the work. Those who do not enjoy their work or any aspect of it (e.g. to work in a good team), we cannot expect innovation from them. Do we need operators to innovate and bring new ideas? Obviously, if we don't want to stand at least 4 hours a day next to the machines as a leader. Is it possible to innovate in 8 hours or 3 shifts a day? How should we divide work and family life? There is a widespread belief that a "work-life balance" should be created, i.e. the balance between work and private life. According to recent schools and generations, this is almost impossible and worth thinking about in "work-life coexistence", i.e. in working / life co-operation / co-existence where it is not possible to separate sharply when work is done and when there is privacy. For example, before dinner, I write to someone quickly because of a tomorrow meeting, but after half a minute I have dinner (in fact, I can put the cutlery on the table with my left hand and send the message with my right hand). Unfortunately, or not, innovation requires that the workplace should go beyond, and work on the company's problems after work. If the employees have to worrying about a daily living, family, etc., there will be no free thoughts for the company, and they will even think about their privacy issues during their working hours and create their own private innovations at their workplace. It is therefore important to enable our employees to integrate innovation time into everyday thinking with a complex motivational package (relieving the burden). It is necessary to enjoy life for innovation - it is not possible to innovate by force.

Which innovation is good, which one is worthwhile, which one will make the most, or which will ensure the survival of the company? Some say it is unpredictable, roulette tables, others believe the business case is decisive, yet others believe in management buy-in with the support of the business case (called commitment only). Sure, if we act quickly, we'll quickly find out if the project was successful. If you try and prove the feasibility of an innovation idea with a small investment and a quick pilot project (PoC, the Proof of Concept), you can quickly move on to that innovation with a roll-out phase or switch to the next innovation idea. That's why we recommend focusing on a fast return (up to a few months) PoC within a year. What goes beyond this is more basic research or strategic development. In the case of innovations, if we want to rely on best practices, we can expect the following projects - based on our research - in the next 1-3 years:
cyber security
IoT
multi-cloud environments
Artificial Intelligence (AI)
data processing analytics
storage solutions
Augmented Reality / Virtual Reality / Mixed Reality (AR / VR / MR)
blockchain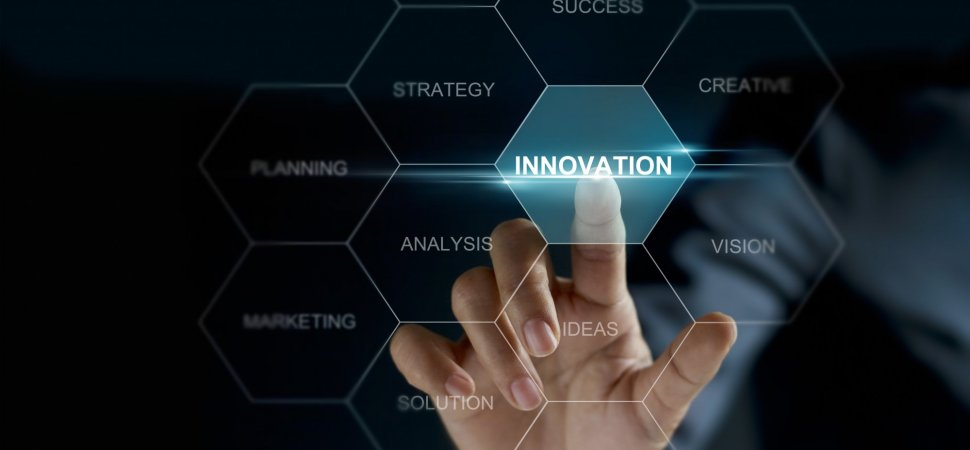 Of these, we would highlight the artificial intelligence (AI) that has been used in machine learning since the 1980s. Now, with the great AI flare up, "only" a multilevel neural network has been opened up to teach and quickly apply (deep learning) with the latest GPUs, that is, we have reached a level of speed and opportunity. We would like to draw attention to an important thing, which is very important for the protection of innovation: we can modify (or discard, if it goes in the wrong direction) the results (experiences) of machine learning and deep learning by further teaching, but it is difficult or impossible to copy or remove parts. In order for us to have a good solution for AI, we need "data philosophers" ("data artists" in other words) who, depending on the industry, understand processes, industrial goals, data, and are willing to think about what the difference between a pen and a brick if we can draw with both on the wall? When the customer's qualitative and quantitative expectations are so high that the state space and the variables cannot be tracked and managed either in the head, in the paper or in the spreadsheet, then the AI, for who this part is a child's play, is to be taught "only" to play correctly.

There is space and opportunity to innovate for every company, be it the basic infrastructure to provide the right work-life coexistence, relieve the employee of the unnecessary administrative burden by online methods or even by monitoring the production and environmental parameters based on more than 100 parameters to decide on the processes in real time. Small companies can innovate just like the biggest companies, in the least cases the best answer is to buy a new production machine. The world seems to drift in the direction that every company is basically an IT company (shoemakers and grocery stores, too), and such a class or a professionally oriented background class gives the company a special taste.