Hidden value of diagnostic data
Among the numerous challenges in i4.0/IIoT solutions, the most intensely discussed and developed area is probably the pursuit for a continuous, precise and efficient production process. In order to increase KPI's to the highest possible levels, manufacturers must pay attention to obtain machine operational data analyzed in a transparent yet interrelated method.

The abilities of cutting-edge diagnostic tools are increasingly linked to AI/ML methods: according to Gartner, by 2020 over 40% of data analysis tasks will be totally automated. And this is no surprise, for human data analysis skills are less agile, while some programmable logic control (PLC) vendors already offer machine-fault detecting algorithms through built-in libraries. These solutions help improve production line uptime by providing engineers with machine health assessment, a useful tool to prepare preventive maintenance (PVM) before an accidental component failure causes an unexpected system downtime incident.

On the other hand, due to changing customer habits, factories need to be able to respond to personalized product needs, thus making their production flexible towards smaller batches than before. Along with this approach, factories will set up innovative and flexible manufacturing areas with interconnected automation islands instead of traditional fixed assembly lines.


Obtaining elementary machine data
Without any doubt, the greatest bottleneck of IIoT and i4.0 is data transfer between layers that have never communicated with each other before. The number of solutions here corresponds to the number of vendors. A common goal here is to substitute classical "package-sending" and find real-time data extraction methods from the memory area of controllers without any radical intervention. Industrial robots mostly use Real-Time Data Exchange (RTDE), RESTful API's that leverage the HTTP protocol and the messages are composed of XHTML and JSON, etc. The situation is not any better with PLC's, where you can find MC protocol, S7, Modbus, Ethernet/IP FINS/TCP, OPC UA, MQTT and so on.
To handle communication challenges between different kinds of systems, machines and devices, we need to create standardized protocols, interfaces and data-interchange formats. Moreover, different devices can serve different sample rates (0.2…500 Hz) which results in different data volumes and densities, with different timestamps. REACH's event-based smart data lake is specialized for the fast interpretation of such disorderly data streams.
Motion diagnostics
Since the third industrial revolution, the market of industrial robots has been growing in an unstoppable way. As a result of this enormous growth, industrial robots today are in the absolute focus of attention - such as their diagnostics. Robot arms are mostly preferred because of their manipulative abilities: they are able to move their tools quickly and accurately even with high payload in a variety of applications.
Special AC servo motors are responsible for moving the individual joints to the correct position. Monitoring their status and diagnosing motion patterns can provide elementary information on their proper functioning. Under normal operating conditions, motors in a robot arm work within a current value (disturbance) interval pre-defined by the manufacturer (depends on current inertia), return to their positions within a given pulse coder error, and the motion torque applied to the arm must be cyclical. With the help of modern IIoT connectors, we can observe cycle patterns by collecting the mechanical parameters of the robot arms. Inappropriate or missed maintenance, collision, mechanical abnormalities can be detected through discrepancies in these patterns. Restrictions to factory limit values or a machine learning algorithm may be appropriate. For example, with a properly configured notification management system, an overcurrent (OVC) alarm and downtime can be prevented: escalation process is triggered by the first signs of an anomaly, while maintenance staff is immediately informed of the exact technical details, estimated remaining availability or a list of components required for intervention.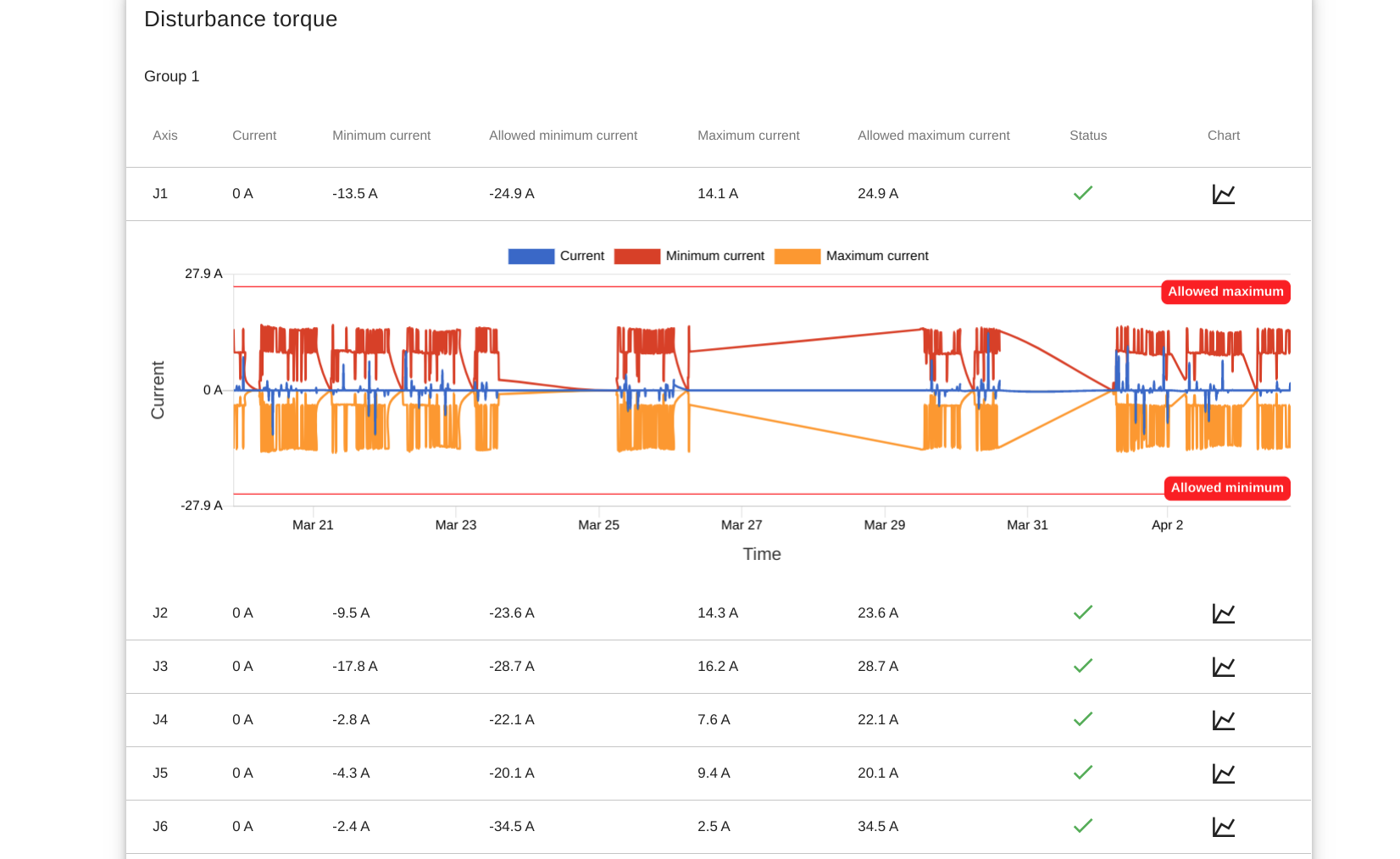 Error rates and heatmap
Statistical and predictive tools are based on historical smart data lakes and cover a wide range of mechanical diagnostics. Time and quantity diagnostics of each error event bring sequential phenomena into focus. When investigating the advantages and disadvantages of sequential phenomena analysis, we can conclude that it can be served with a relatively small hardware resource requirement for a properly designed database of its computing layers, though it does not handle and highlight parallel events. This is helped by a so-called correlation heat map, a tool which investigates correlations between the data series. The outcome of the analysis is greatly influenced by the quantity and quality of the data. If all data sources from the manufacturing process are integrated into the architecture, the complex phenomena can be examined and solved on a unique analytical interface, which learns the relationship between the tool status and the number of scraps or stoppage causes of machine, material or operator failure or even tool failure with available algorithms.
Key to the correlation heat map below: values close to 1 (red) have a strong positive correlation (time-time movement), while values close to -1 (blue) show a strong negative correlation (time-opposing change).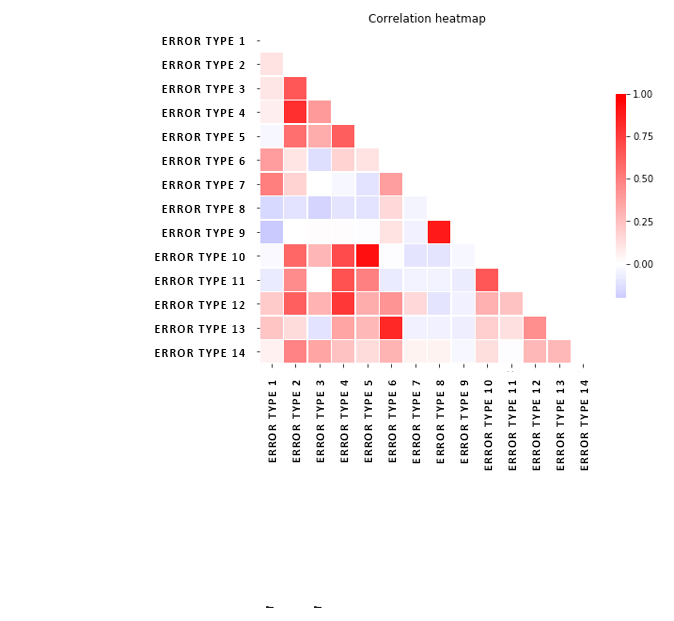 Conclusion
The above approaches have both direct and indirect feedbacks to the production process and in both cases a high resolution interface with the existing MES is essential. To ensure continuous production, proper scheduling of the necessary maintenance is a simple but important formula to recycle machine diagnostic data. In case of small series production, we can override any previous production schedule based on the diagnostic data obtained: in case of a predicted failure, we can save precious downtime by optimizing the sequence of series by reorganizing production between the islands. All these can be created in an autonomous environment, with machine-to-machine (M2M) communication via standard channels (e.g. OPC UA), without human interaction.